Scan and Expand to New Ideas, Opportunities and Destinations
In this issue of our newsletter, we cover some very exciting, emerging mobile technologies that are being swiftly adopted by smartphone users. QR (Quick Response) Codes are popping up everywhere and smart marketers are reaching out to connect and communicate with a new community of mobile users. You may have seen QR Codes on magazines, brochures, buttons, decals, books, T-shirts and even tattoos. Some applications go so far as to engrave a QR code on a tombstone. I am waiting for the E-trade baby to display his own QR code so we can say applications span from "cradle to grave".




Yes, I'm ready to make a QR mobile business card!



Even the United States Post Office has launched a Summer campaign for companies to receive a 3% reduction in mailing fees if they display QR codes on their letters and packaging. In my recent Summer travels, I have seen many restaurants and grocery stores using QR Codes to direct buyers to promotional sites where they can access coupons, games and opportunities to win prizes.

We are providing a complimentary offer for you to generate your own QR code that will link to your contact information in the form of a mobile business card. Create your QR mobile business card and you can display and share your contact information directly from your smartphone. How easy is that?

Ready to get started? Access the QR Code Mobile Card Maker application link at our Services tab or big button above. You can also learn more about QR codes by joining our Webinar Wednesday list. Join our webinar list and we will send the recent InfoTrends replay, "Blending Print and Mobile to Deliver Engaging Experiences". This webinar replay provides detailed information on mobile code technologies and real-world applications.

You will also read about some great uses of QR codes that our Creative Director, Carolyn Hasenfratz, designed to display at the recent Route 66 International Festival in Amarillo, TX. So get those smartphones out and get ready to scan and expand your ideas on you can use QR codes. We offer a suite of mobile integration services and solutions that will make it easy for you to grow mobile marketing opportunities for your business.


Make Your QR Mobile Business Card for that next Trade Show
by Mark Rice

There are many tradeshows coming up and you will see more QR codes on signs, banners, brochures and on mobile phones. Attendees will be sharing business cards but here is a unique way to offer yours to customers, prospects and colleagues.

Create a complimentary QR code for your mobile business card. The presentation below gives you an introduction to the process. Select the "I'm Ready!" link in the presentation to make your QR mobile business card. Save time, share your contact info and make an impression. It is easy! Are you ready?



Yes, I'm ready to make a QR mobile business card!





Return to top





Blending Print and Mobile to Deliver Engaging Experiences
by Mark Rice


We recently produced a webinar trailer to promote the "Blending Print and Mobile to Deliver Engaging Experiences" Webinar Wednesday event with guest speaker, Bryan Yeager of InfoTrends. Bryan presented some great content related to use of 2D mobile codes, SMS and augmented reality -- a unique 3-D display of interactive and animated content that you can launch from a printed document.

If you want to learn more, access this replay by subscribing to our Webinar Wednesday email list.




Return to top





Make Your Mobile Media Easy
by Mark Rice


Return to top


Partners

Go Hollywood With Your Webinar - create a trailer.
by Mark Rice



Webinar Resources recently was highlighted in Brainshark's Idea Blog. As part of our webinar customer acquisition process, we produce a short trailer that consists of a Brainshark presentation. The webinar trailer is sent out to announce the webinar and capture registrations through a call-to-action slide.

We recently produced a webinar trailer to promote the "Blending Print and Mobile to Deliver Engaging Experiences" Webinar Wednesday event with guest speaker, Bryan Yeager of InfoTrends. The webinar trailer was viewed and tracked and effectively increased the number of registrations for our webinar.

Learn more




Return to top




Webinar Resources Announces New Web Site Designed for Businesses Marketing on Route 66
by Carolyn Hasenfratz. Photo by Ron Warnick.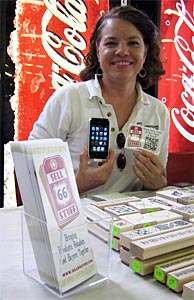 Webinar Resources is proud to announce the launch of a new web site, Sell66Stuff.com. The web site is designed to help businesses market their products along historic Route 66. Listings in the directory for retailers, wholesalers and event promoters who want to sell products on Route 66 are free of charge, and can include a photo and a link back to the business web site. Paid ad space is also available on Sell66Stuff.com.

Carolyn Hasenfratz, Creative Director of Webinar Resources and a fan of Route 66 for a dozen years now, thought of the idea for Sell66Stuff.com while exhibiting Route 66 themed rubber stamps at the 2010 International Route 66 Festival that took place in June of that year in Quawpaw, Oklahoma. "Another vendor asked me if I could recommend other upcoming events with opportunities for selling Route 66-related merchandise," says Carolyn. "I knew there were many calendars available online for events on Route 66, but none that were designed specifically to make it easy for vendors to find suitable exhibition opportunities that attract Route 66 enthusiasts and those who enjoy historic highways, Americana and car culture. On the drive home, I thought about creating such an events directory and adding to it a section for retailers and a section for wholesalers so that anyone trying to sell products on Route 66 can find the right outlets for their merchandise. Many retailers on Route 66 report that one-third to one-half of their customers are from outside the United States. That creates a great opportunity for business people in our country to expose their products to a wider audience."

Read More

Read Carolyn's account of her trip to the 2011 International Route 66 Festival in Amarillo, Texas:
A Trip to Amarillo (Mostly) on Route 66
Return to top

Webinar Resources Newsletter
Would you like to sign up for our newsletter and read about recent news, industry trends and partner and customer best practices? Just fill out the short form below, or text the word "webinar", a space, and your email address to 88769 to subscribe.
| | |
| --- | --- |
| | Here are links to past issues of our newsletter: |